Supporters came out in droves to support Lloydminster's LGBTQ+ community Saturday as part of their Pride Walk.
Despite COVID-19 restrictions and a possible thunderstorm threatening to put a damper on the day, the event went ahead. The walk, held at Bud Miller Park, was staggered into several smaller groups in order to maintain physical distancing. Despite the change, it was still well attended. Organizers estimate that in total, despite them having to come in waves, 60-70 people marched in the pride walk throughout the day.
Jenson Brown, a director with the LGBTQ+ Society of Lloydminster oversaw the event planning with colleague Patty Brown. He says this is the first year they've done the walk and despite challenges, it was a big moment.
"Certainly once COVID hit, we never thought it would actually happen. Somebody loves us and has allowed it to be, the restrictions eased off just enough that we could do a stagger start pride walk. This is the first, this is historical, this is the first of many."
The event marks Global Pride day internationally and caps off a week of Pride events in Lloydminster. These included virtual Drag Shows, dance parties, various webinars and a scavenger hunt that had Lloydminster businesses adorn their doors with a rainbow heart, marking that they're an ally to the LGBTQ+ community.
Brown says as a transgender man himself, it was exciting to see so many friends and allies be a part of the events, both in the City and beyond it, as the events had an even larger digital reach.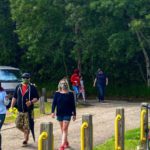 "I couldn't be more ecstatic. Absolutely more ecstatic, we have people from all walks of life, people who I know from many different avenues of my day to day show up and show support. You can't ask for more as an LGBTQ+ person."
The LGBTQ+ Community is now coming up with plans for 2021's Pride. Even if the pandemic restrictions are largely gone, they plan to keep some virtual elements in conjunction with their in-person events. Brown explains this is so they can help LGBTQ+ people who aren't publically out yet find support, and feel like they're a part of Pride too.
They're also looking to work with local bands, entertainers and businesses, and keep the scavenger hunt as a staple due to strong community response.