The Snowflake House Respite Foundation is now able to provide more help to Lloydminster caregivers seeking respite care.
The foundation has opened a six bedroom house to allow overnight respite care for children with disabilities between the ages of two to 14. The house will be open for 24 or up to 72 hours of care. A social care worker will have to fill out an application to book time at the house.
Executive Director Shelly Wieringa says the foundation has been hard at work to get the house ready.
"I am so excited. It's hard to explain, it took so much work to get us there, but we're there."
She says it took some time getting permits, making plans and finding the house, but now they have accomplished one of the goals set out by the founder of the foundation.
"Lilly Belland was the original founder and, right from the start, she wanted to create a respite house. There is such a shortage of places for our kids to go for overnight. They either have to go to Prince Albert, Regina or Red Deer and the waiting list is super huge and most kids don't get the service."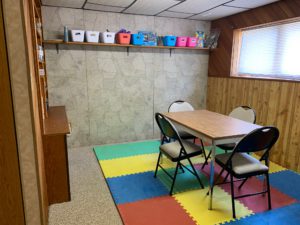 The foundation provides temporary care of sick or disabled community members up to 18-years old in Lloydminster to give relief for caregivers. The organization offers a number of programs including a mentoring program for kids, which teaches them things such as social skills.
"Basically, it's like going to your aunt's house and that what it looks like. It looks like a regular home. Some of the kids will be coming in because their parents need a break and we keep them entertained. Some will be coming in with learning objectives while they're there, behaviour management or mentoring on certain things."
The house will be following COVID-19 guidelines and temperature checks will be done before entering the home. Enhanced cleaning procedures have been implemented and all staff will be wearing face shields or face masks.
Wieringa says the foundation has cut their time with the children in half over the past few months due to the pandemic. She says things are starting to pick back up as is their expansion into Wainwright.
"It's starting to pick up there too and we'll be able to take kids in from Wainwright into the house."
The foundation will be keeping busy in the coming months as they work through the beginnings of the house. They will also be moving their offices to a new location in September and will be setting up a learning centre inside to provide workshops for parents and caretakers.