The Saskatchewan Water Security Agency and the Ministry of Health are warning against swimming in or drinking from waterways that have blue-green algae blooming.
Both agencies say that lakes across the province, including in the Lloydminster area, could be at risk of developing these algae blooms. While Saskatchewan has not had to close any lakes or send out any water advisories, they say people should be aware of what this algae looks like and its risks.
Blue-green algae often forms during calm, hot weather in lakes and reservoirs with shallow, slow-moving or still water that has sufficient nutrients. It can appear foamy or soupy and are usually a shimmering blue, green, grey or tan colour. Algae blooms typically last up to three weeks and can be pushed around the lake or reservoir by the wind.
Swimming in or drinking this algae-bloom affected water can cause red skin, sore throat, cramps or diarrhoea. In addition, pets, especially dogs, are particularly vulnerable to cyanobacteria, the bacteria in these algae blooms. 
Cyanobacteria can also form in many organs, including the skin, of fish. It's recommended that people keep their consumption of fish organs to a minimum. The WSA says studies have shown this bacteria is not likely to accumulate in fish flesh at levels high enough to be hazardous, and correctly gutted and filleted fish will pose minimal to no risk when eaten by humans. 
The Government of Saskatchewan's Healthy Beaches program monitors waterways across the province for blue-green algae, with test results posted online weekly from July to September.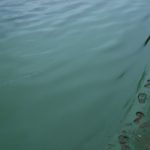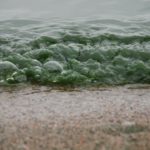 Visitors can check online for blue-green algae advisories, but because this isn't always instantly updated, beachgoers should follow all posted signs.