Spiro Kokonas and his family first came to the Border City in 1970 and slowly built a business that would last half a century.
Starting on August 11th, Spiro's will be holding a week-long celebration commemorating 50 years in the community of Lloydminster. It will begin with a night market on the patio from 6 to 9 p.m. on the 11th, followed by Greek Night, a family night on the 13th with a drive-in movie then a date night. The festivities end with a car show on August 15th in the parking lot of the restaurant from noon to 3 p.m.
The restaurant, named after its owner, has gone through many changes in the past 50 years. The family-business began in a building on 44th Street and 52nd Avenue. Spiro, his wife Tina, and his brothers, Jim and Bill, opened the restaurant and stayed in the same location for eight years. During that time, Jim was diagnosed with cancer and passed away.
Spiro and Bill then bought the building on 4917 50th Avenue and moved their restaurant there.
"We bought a really fancy place, but the economy had a downturn and the interest rate went up to 25 per cent. As a result, we lost in in 1982."
Spiro says he lost the business and his house during that time and it wasn't until he met Peter Gulak that things began to turnaround. The family still lived in the house, but no longer owned it.
"I went to pay the rent and he says 'do you want a business?' I kind of laughed about it and I said 'Peter I don't have anything.' He says don't worry about the money and points me towards a little place across the street. It could seat about 25 people."
After some negotiating, the two work out a deal and Peter gives Spiro $22,000 from his own account to help restart the business. Little by little, the family begins rebuilding the business and eventually open a catering business called Sonlight Catering as well.
During that time, Peter and Spiro make another deal, this time on the house. The money Spiro and his family were using to pay for rent instead became a down payment on the house.
They sold the catering business and moved the restaurant again, but only stayed at that location for a few months. Once again, the restaurant moved to Meridian Plaza and they stayed there for 17 years. Spiro was then contacted by Bill Musgrave who wanted him to build a new restaurant in a lot near his hotel.
"At that time I was 64-years-old. I didn't know what I was planning to do, but I wasn't about to start a new endeavor again. Then I told my daughter Maria and she says, 'Dad, I want it.'"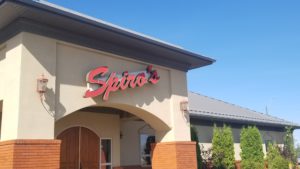 Spiro says they then built it where it sits today on 1408 50th Avenue. He says business is still good even after shutting down for some time due to the pandemic.
"We were very busy with the takeout and we've done very well. We are here for 50 years and people know us, so we never felt it."
Spiro says he feels happy and humbled by the fact that the community has shown such support and put so much trust in them.
"That gives us the courage to go on, because we know we have the support."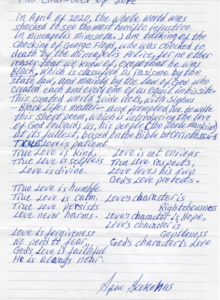 He hopes to see his granddaughters and great-granddaughters be a part of the restaurant after he passes the business over to Maria. During the tough times of the pandemic, Spiro shares a message of love (pictured left) and words of advice.
"The only advice I can say is never give up. We had many opportunities to give up. For myself, I want to do something to prove myself, but some people say it's not worth it. So, it's [up to] the individual."