The city is moving on to the next stage of overhauling their dangerous goods routes and truck routes.
City council was presented with more information on the future of the routes in Lloydminster. The new routes took into account multiple discussions from engagement sessions done last year as well as road conditions, noise and other factors.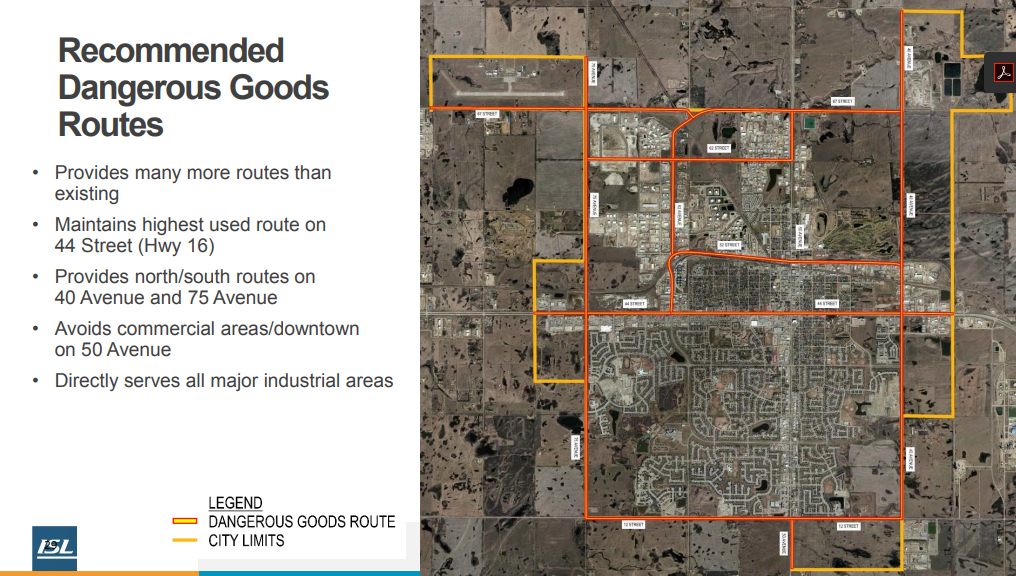 Roads near the city's borders will be used in the recommended dangerous goods route including 12th and 67th Street as well as 75th and 40th Avenue. Highway 16 will continue to be utilized, but only a portion of Highway 17 in between 62nd and 67th Street will be used. Other routes include 52nd Street, 62nd Avenue and 62nd Street. The current version of the route only utilizes Highway 16 and 17.
Similar to the dangerous goods route, the updated truck routes will utilize bordering roads as well as Highway 16. Highway 17 from 51st to 67th Street will be under restricted use between the hours of 6 a.m. and 10 p.m. Highway 17 south of Highway 16 will still be used as a truck route.
College Drive will also be under restricted use from 6 a.m. to 10 p.m. Mayor Gerald Aalbers says the restriction on this road may need to be reviewed in the future.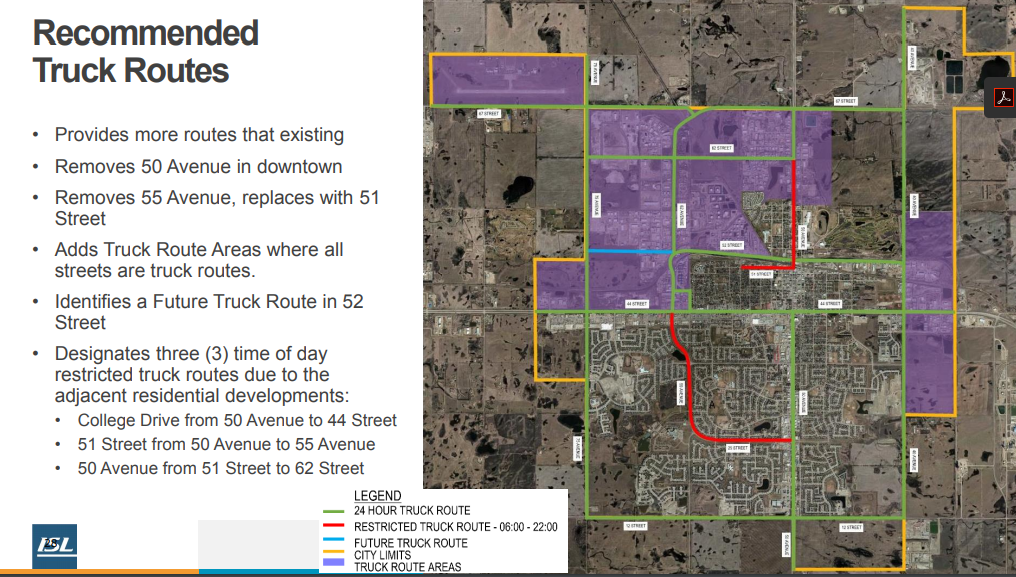 "When the oil and gas industry comes back, I know there are people in the industry that work after 10 p.m. and they are going to need to get there. Rather than drive them down 16 and down on 17, why can't they use College Drive? We may have to review that or future council will have to review that as the industry needs to respond to things."
Before the routes are put in place, the city will have to update their traffic and transportation bylaws. Aalbers says there will be an adjustment period of about a year before enforcement begins as companies will need to be notified and new signs put up across the city.
"The timeframe is fall of 2021 for full implementation. There's going to be signs going up and there will be a couple of months of people being warned and discussions."
On the issue of wear and tear on the roads due to possible increased traffic, Aalbers says it's always going to be a challenge in keeping them maintained and they will address them accordingly. A bypass was one of the solutions proposed by residents in the engagement sessions. Aalbers mentions there are a lot of parts needed in order to move forward with that project.
"A bypass is a discussion we'll pick up at a different time when we hopefully have two Ministers of Highways here who could answer that question. It involves the federal government because the highway is a national corridor and it involves two provincial governments."
A recommendation to include the signs as part of the city's 2021 budget will come before council in the near future.