Dion Boser is ready to get back on the road again and is starting a new shuttle business in the Border City.
The Rockin Rolla Shuttle Service will take passengers to Edmonton, Saskatoon or other regional locations for shopping, health care appointments, airport delivery and pickup during the weekdays. An enclosed trailer will also be available for hotshot services and the bus is equipped with a ramp for wheelchairs.
On weekends, they will be able to take private bookings such as weddings, bachelor/bachelorette parties, concerts, conventions and hockey teams.
"It suits me. I've grown up here my whole life and I know the area. I've trucked around here and I think this is going to be a lot more fun."
After being laid off from his job in the oil and gas industry, Boser decided to spend some time at the lake. It was during his travels that he noticed a shuttle bus for sale on the side of the road.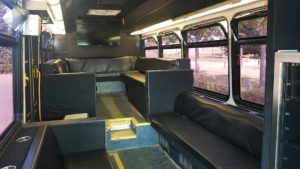 "I mentioned it to my buddy and we found a deal on an auction and then it just happened. We went for it and it ended up being a pretty good deal, better than we expected actually."
He says the theme for the business came to him not long after. While driving on their way home after picking up the bus, they were listening to some rock music and the idea started to form.
It is also Boser's first time starting a business. He says it's been a learning experience and his business partner is guiding him as they've started companies before. While he isn't sure if starting a business during the pandemic is the best time, he says he needed to work.
"People need to get around and go to places. Hopefully, it wasn't at a bad time and it's at the perfect time."
The service has an expected to have their grand opening on September 14th, however Boser says they've already had an unexpected maiden voyage.
"They had fun all night and I hung out with them too. It ended up being people I knew, unexpectedly. I'd have them back anytime."
As far as COVID precautions, Boser says he will be wiping down and disinfecting the bus every night and will have hand sanitizer available for passengers as well as masks. Boser hopes to eventually buy a second bus to run trips in both directions on the same day.
He says he'll be driving some laps around the city and get the word out about his new business ahead of the opening. To book a trip, the contact information is available on the businesses website.