Four people are facing multiple drug and weapons charges after the North Battleford Gang Task Force initiated a traffic stop.
The RCMP noticed two vehicles interacting in a parking lot on Railway Avenue on September 2nd. They then initiated a traffic stop and found one of the occupants had an outstanding arrest warrant. During the stop, officers noticed weapons in one of the vehicles and all occupants were arrested.
Quantities of cocaine, crack cocaine, methamphetamine, illicit marijuana, a firearm, a taser and other weapons were found after a search of the vehicles.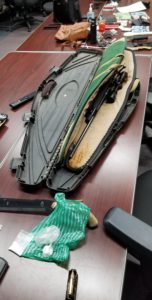 Forty-year-old Rae Ahenakew of Mosquito First Nation and 24-year-old Shynia Skeavington of Mosquito First Nation have been charged with drug possession charges as well as possession of a firearm. Ahenakew also faces an obstructing a police officer. Skeavington faces several failing to comply charges and additional weapons charges.
Thirty-four-year-old Matthew Greer of Biggar was charged with possession of a weapon for a dangerous purpose and operation of a vehicle while prohibited. Twenty-four-year-old Desiree Hinse was charged with possession of cocaine, multiple weapons charges and obstructing a police officer.
All four are in custody and have appeared in North Battleford Provincial Court on September 3rd.