With the 2020-21 school year being different than most due to the COVID-19 pandemic, both of Lloydminster's school divisions have released videos to help guide parents through the new rules.
In a proactive attempt to minimize the risk of infection, Lloydminster Public School Division Direct of Education Todd Robinson touched on some key points in a September 3rd Facebook Video.
These include parents making sure their kids are feeling well before school, and keep them at home if they have symptoms of a cold or the flu. They've created a symptom chart, which parents can reach out to their school for if they didn't already receive it.
He also encourages people to have a plan in place if their children get sick at school, which includes planning to pick them up or have a guardian available to do so if need be. He adds that they'll always have a staff member with the child so that they're not alone while they're waiting.
When it comes to getting their kids to school, Robinson encourages parents to drive their kids to school instead of bussing but says he understands if this is not a possibility for all parents. An email to parents has their set time for bus pickup, and also their child's assigned seat. If a route needs to be delayed or cancelled, the information will be on the School board's website.
For pick-ups or drop-offs, guardians and parents are told to arrive as close to the time as possible, stick to their assigned entrances. During these times, the won't be allowed physically into the schools if not necessary.
They also encourage a minimum amount of supplies taken from school and back home, and teaching kids not to share supplies or food.
LCSD also reminds parents of guidelines
The Lloydminster Catholic School Division also put a video out on August 26th called Prevent with a Purpose, which is a quick reminder about handwashing, informs parents that teachers will guide students through the sanitizing process, and lets students know teachers are there for them. LCSD schools will be having a phased-in back to school as teachers help students get up to speed on the new process.
This will begin with students with last names starting with A to L starting on September 8th and M through Z on September 9th. This process will continue on the 10th and 11th before all students come back on the 14th. Parents can still opt into the learning from home method with LCSD until the end of November, which will begin on September 10th.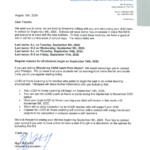 Both school divisions will have masks, gloves, sanitization items and other Personal Protective Equipment, which will be available when needed.
School also starts at LPSD schools on September 8th. Both LPSD and LCSD have made a full list of their guidelines available online.