The city has passed the first step in redeveloping the Martin Browne area.
Council granted the third and final reading for a bylaw to accept the Martin Browne Redevelopment Plan as well as an amendment to consider the future use of the area as parks, open spaces and trails with a portion considered for residential. The plan and amendment gives the city a broad guidance for future decisions.
Mayor Gerald Aalbers says the city will now be able to move forward with sidewalk upgrades and early expansion ideas now that the plan is in place.
"There's a basic plan and some ideas. It always takes money and that will determine what steps go forward and we appreciate the involvement of the entire community, not just the neighbours as other people in the city may travel to that green space as well. It holds our outdoor swimming pool, one of our arenas, a park. There's a lot of great amenities and we want to keep those up."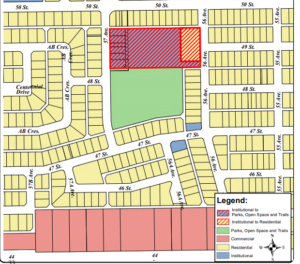 A public hearing was held before the reading. The city received one letter in support of the amendment from Ben Harrison. Resident Susan Dow attended the hearing in-person and spoke against the bylaw change.
She was against adding more residential plots and says having the additional green space is a greater need in the neighbourhood. She also pointed out that 13 per cent of people who completed the online survey on the redevelopment were people living in the neighbourhood and may not accurately reflect their thoughts.
She says there are also concerns of whether any new residential developments would fit within the design of houses in the area. Aalbers did say that matter was considered in the development plans for the Martin Browne area.
"No one wants to see a massively changed neighbourhood. That was discussed and the plan is to meet what the local community already has."
He says it will remain as low density residential housing.
A future issue council will face in redeveloping the area is the Archie Miller Arena. The arena is anticipated to last another 5 to 10 years and any decisions made will have to work around it.
EDIT: The previous article stated the areas were rezoned, however this is not the case. A rezoning of the area would require passing a Land Use Bylaw amendment which would see another public engagement session and public hearing. No residential development can occur until the Land Use Bylaw (rezoning) is passed. We apologize for the mistake.