Lloydminster RCMP have been answering to more mental health calls this year as Inspector Lee Brachmann gave an update to city council on police activity in the city.
The report compiled police activity data from January to August 30th, 2020.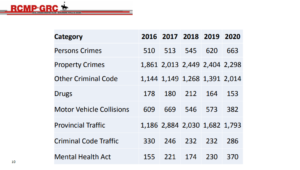 A dramatic increase of 61 per cent in Mental Health Act calls was noted in the report. There were 370 calls this year which is up from 230 at the same time last year. Brachmann says officers can respond under the act if a person is at risk of hurting themselves or others. He says not every call results in an apprehension.
"Mental health is a very complex issue with a lot of underlying root causes associated with it. It really does require collaboration between police and health professionals as well as [those] in the health and human services field too."
Brachman was questioned whether the detachment is seeking to introduce a program like a Police and Crisis Team to the city. He says discussions with partners are still early and they are enhancing those relationships.
"I do think our partners are willing to work with us, not necessarily in a certain program, but in some fashion. Where that takes us remains to be seen."
Mayor Gerald Aalbers says the city will continue to lobby both provincial governments for more mental health supports.
The numbers in the other criminal code category continues to increase throughout 2020. The category covers offences such as mischief and failure to comply. Brachmann says there has been an significant increase in failure to comply offences.
"That could be interpreted as the Lloydminster RCMP are doing more proactive work in our community to identify offenders that cause a disproportionate amount of crime and then hold them accountable whether it's through the courts or other measures."
He also says having a more complete detachment with more officers is another factor that could play into the increases.
Early in the year, the detachment set specific goals to reduce property crime in the city. Overall, there has been an eight per cent decrease in property crime and a 20 per cent decrease in vehicle theft compared to the same time last year.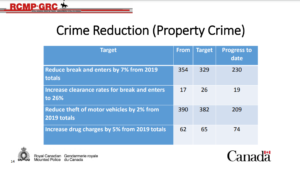 The detachment has surpassed one of their goals of increasing drug charges by five per cent from 2019 totals. Their goal was to have 65 charges by the end of the year and they are at 74 as of the update.
Lloydminster RCMP is also looking to get back to another goal with more community engagement. Inspector Brachmann hopes to hear from residents during a virtual town hall planned for October.
"The format gives people that may be hesitant to attend an in-person town hall a greater chance of having and maybe more willingness to come to the table. It'll be interesting where that takes us."
He says more information will be sent out by the city when the details have been worked out.