Indigenous culture was one part of the learning for students at Mother Teresa Early Childhood Education Centre's Fall Fun Day.
The annual day of outdoor learning served as a time to showcase the new Tipi at the school to students, which was built back in the summer. Lloydminster Catholic School Division Aboriginal Program Coordinator Cynthia Young taught small cohorts of children throughout the day.
Among the lessons were the Tipi Teachings about home and community life in Indigenous culture, the importance of the Headdress, sacraments and medicine in Indigenous Culture.
"I want them to have some understanding of the First Nations culture of Canada, and just to know," Young explains, " This is something very new that we've started within the last ten years, where people are really starting to learning the Canadian history. It's very important to teach the kids at a young age, so they understand the concepts as they get older."
First Grade Teacher Paige Kindopp adds that the kids will also get a better appreciation for how Indigenous cultures make up the area where they live as well.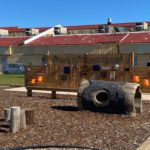 "It's really important because we are located on Treaty 6 [Land.]  It is something we haven't recognized enough, so we just thought that inviting our liaison, and teaching the kids earlier, just so they have a basis,  is super important."
Other learning was also on display as well during the outdoor day, including physical activities, mathematics, drawing and an outdoor music wall for kids to learn about rhythm and patterns. While Fall Fun Day is normally held on a weather-permitting day, Kindopp says that it also, even in these smaller groups of kids, allows them to interact and have some fun while still making sure they're being COVID-19 cautious.
"Our school really values spending time outside, that's why we have that wonderful outdoor classroom. It was really important because there's a little bit less cleaning outside, and the kids just getting in touch with nature was super important too."
In total, there were seven learning targets as part of the day in Language, Math, Science, Physical Education, Health, Art and Religion.