City administration has slimmed down the budget for 2021 as they work towards pandemic recovery.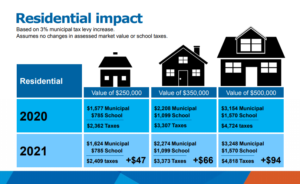 The first draft is based on a 3 per cent tax increase for both residential and commercial properties as well as a 3 per cent utility rate increase. Residents will see a $47-94 increase in property tax and an additional $2-8 a month on utilities. Commercial property owners will pay an additional $170-511 on property taxes and $2-8 a month on utilities.
Mayor Gerald Aalbers says the increases are needed to try and maintain the same level of service throughout the city while also dealing with rising inflation costs.
"We have that expectation that roads are going to be passable to drive on in winter and summer; pothole repair, maintenance as well as the enhancements that come to our city whether it be recreational, culture or water and sewer. Water and sewer you don't see, but everybody expects it to work each and every day."
The operating budget saw about a $100,000 surplus with $82,979,871 in revenues and $82,876,545 in expenses. Both revenues and expenses are about $1 million less than the 2020 budget. Protective services, such as RCMP and the fire department, increased due to collective agreements put in place and other factors. While planning and economic development services will see a decrease.
City staff also used the budget engagement survey to direct where to put some of the funding. Out of the 198 who completed the survey, 64 per cent wanted an increase in protective services and 56 per cent favoured a decrease in planning and economic development services.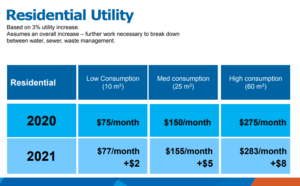 "That's what we're trying to get a handle on, what are people looking for at a general level. Individually we hear from residents, electors, business people and voters each and every day. We try and deal with those on those cases, but on a budget we need to get some general direction."
The capital budget came in at at $460,000 deficit with $57,785,363 in project costs for the year and $57,325,083 in funding. Capital projects included replacing aging or outdated items, updating areas that are required by either provincial or federal regulations, improvements on current infrastructure or a continuation of multi-year projects. This includes the wastewater treatment plant which was budgeted at nearly $30 million for 2021.
Aalbers says council will take another look at some of the items and will try and balance the deficit.
"First, you could go to reserves and take money out of each of the respective reserves. We've worked really hard on building reserves and the question is, 'when do you access reserves?' Is it a rainy day fund? Second, you have a tax increase to cover off the $460,000 or third, you cut projects to get it in line with the budget."
Some projects have already been approved for governmental funding and applications will be sent out for others. City staff indicated some provincial grant funding amounts would remain steady this year, but it is expected to fall in the next few years.
City council will be able to provide more feedback and direction at the regular meeting on October 5th. The second draft of the budget is scheduled to be presented to the new city council on November 30th.