Gerald Aalbers will officially sit again as Mayor of Lloydminster, receiving his second term by acclamation.
Aalbers, who was first elected in 2016, was the lone mayoral candidate at the close of the nominations October 7th. After waiting the 24 hours allotted for candidates to change their mind on running, 2020 Municipal Election Returning Officer Doug Rodwell provided notice of abandonment of poll, which duly elected Mayor Aalbers under Section 77 of the 2015 Local Government Election Act.
Aalbers says his first term has presented many learning moments, and he's thankful for people all across the city who have stepped up to support the community.
"After serving four years, I realize that this is part of our job is that long term vision for the city, and setting some direction. I'm looking forward to doing that with a new council."
Some of the projects Aalbers noted as needing ongoing work were the Waste Water Treatment Plant, the Library's redevelopment, a new home for the Lloydminster Cultural and Science Centre and the potential for a new sports multiplex in the City, should they financially be able to do that.
Aalbers adds that the new council will be working in uncharted territory due to the ongoing COVID-19 pandemic, but the health and economic vitality of the community will be something they will be working towards.
"We're making sure that we engage with the community, so they understand what we're doing.  We're working with the provincial health authorities that has the governence of health and how we move forward, and we'll continue to carry the message of what our community needs, and what we believe they need, to the provincial governments and the federal government, and to try to work with them to ensure that we continue to build on economic development."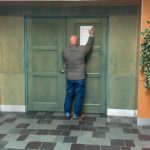 The Lloydminster Catholic School Board Trustees were also duly elected, as there were seven seats filled with seven candidates. Winston Avara, Kate Carnell, Cal Fendelet, Laurie Makichuk, Michelle Rusteika, Paula Scott and Andrea Zerr will all serve on that board.
Elections for Lloydminster City Councillors, with 18 candidates vying for a spot on the six-seat Council, and Lloydminster Public School Division Trustees, with eight candidates, will both be going ahead as usual, with election day officially on November 9th.