Students from Father Gorman School gathered Friday to paint for positivity, and leave some inspiring messages for the community.
On Friday, students painted uplifting quotes and pictures along the walking trail off 36 Street. The fence they painted on was donated by local resident Travis Hall, who has already been known in the community as the person who painted the "Black Lives Matter" mural there back in June.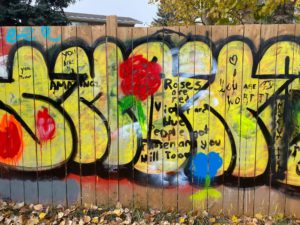 Since doing the painting, he's encouraged people to drop off positive messages of their own, and he explains that working with the school fits into that.
"It's fun to watch it grow and change, you come out every day, and there's something new on there, something's covered up, there's always something else going on. So it's fun to watch it grow and manipulate throughout the year."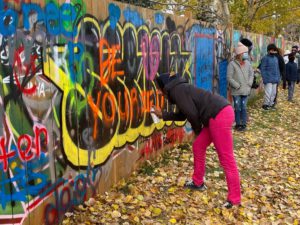 Some of the messages ranged from encouragements of self-expression, body and mental positivity and racial equality, among others. The painting, in addition to being a fun activity for the kids, served a learning purpose for the kids. The painting was part of students "Growing Up" unit in ELA, and aimed to teach students about how to make community connections.
Sixth Grade Teacher Paige Fulkerth says she heard about Travis' wall earlier in the year and reached out to do this because it would be a good fit for her students and this learning.
"Kids are learning about positive affirmations for themselves, and positive messages for others, and with their voice they have the responsibility to spread make others feel good, versus feel bad, so they all drafted up their own positive message, and they got to bring it to life on the fence today."
Fulkerth says her class is thankful and lucky to be able to contribute positively to the project.