The first design phase of a new Lloydminster Fire Hall planned to cover more area and for functionality was presented to City Hall Monday.
Senior Capital Infrastructure Manager James Rogers presented the first update to the council during their meeting. The schematics showcased larger areas for firefighters to remove dirty clothes and equipment after a call, enhanced cleaning services,and a wider truck bay. More dormitories and enhanced office and training space were also considered in the design.
Councillor Aaron Buckingham, a firefighter himself, says that he was pleased to see an enhanced separation between the clean and dirty areas of the Fire Hall because this promotes good health for emergency workers, keeping them away from possible carcinogens.
"If we had a call right now and I went there, I should really be taking those clothes off or washing them there and having a shower there before I went home. Having those two separate wash facilities for that type of thing is promoting good health. They've recently added occupational cancers from fire to WCB, and things like that. This is just another good step in the safety factor of that."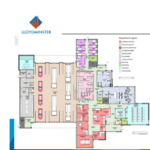 It is planned that the fire hall will be built on previously unused land in the Saskatchewan Industrial Park area. There are three lots available there, but the project only needs two.
The location was chosen to cover all four compass points of the city, have room for manoeuvring vehicles out of the hall, and as Buckingham notes, enhanced training space in a non-residential area.
"Looking at all the schematics of that, and all the things they're doing there, I was really impressed with it. There is a large push to do internal training, to reduce costs, whether that be the City Fire Department or any other, which is great to have there."
Buckingham adds that they hope to have firefighters in the new hall operating by Fall of 2021.