Father Gorman students are getting a hands-on opportunity to learn about the growth cycle with their Tower Garden.
The Tower Garden relies on UV lights, growing the kids' plants inside the classroom. The UV Lights, along with the indoor climate, allows the plants to grow 30 per cent faster. It also allows the kids to be hands-on in planting, growing and eventually harvesting the plant, all while watching the growth process in real-time. Students are growing fifteen different local species from vegetables like corn or lettuce to other plants like aquatic grass or chamomile.
Teacher Mitch Cherry, who helped get the Tower Garden in the school originally, says it's a strong fit in their overall science curriculum, allowing them to use all five senses to learn instead of just textbooks and worksheets.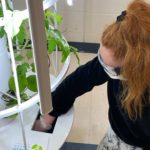 "So the students are able to see what we can grow locally, in our own environment, and then we talk a lot about how we can conserve nature. So how, by growing things inside, we can maybe transplant things outside."
Students are hands-on by adding waters and minerals to the plants in the tower, pollinating them and eventually cycling them out throughout the school year. Like all other things in school this year, the Tower Garden has had to work around COVID-19 guidelines, with duties delegated to certain students throughout the year so as to have fewer people in an area or touching certain items.
Despite this, students like Kaydence Feser say they've received a lot of value from having the Tower Garden in the classroom.
"[It teaches] lots of patience, and it's also different because [when] it grows, sometimes plants when you plant them they won't grow, and sometimes they will grow faster, sometimes slower, it all depends, really."
Normal once the growing cycle would end, students would share their vegetables with the rest of their school via a cafeteria meal, however this year, students will have to just take them home to eat with their families instead due to new rules.