Student lead leadership and community are focuses of two different events at the Lloydminster Comprehensive High School.
The school's Barons Activity Council have joined in on We Scare Away Hunger, a national initiative designed to bring in donations for local food banks and draws attention to food insecurity across Canada. Students on the leadership team set out with the goal of raising over 1000 non-perishable food items this week, and thus far have raised over 400 boxes and cans.
Grade 12 student Devyn Haygarth says the group's goal is all about community, and that's why they thought this would be a good fit.
"We decided to do this one because, with the pandemic, the Olive Tree was at kind of a crossroads, trying to decide how to get all the food in for Christmas, and for Thanksgiving, and all that stuff. So when we brought up the idea to our leadership group chat about doing this one in particular, everyone was excited right away."
Keauna Campell, another student in the leadership group, says by doing this it can inspire more people to get involved.
"It's really important as a youth, that we try to change the community, and I think it's very important for students at our school to be aware of food insecurity and helping other people in need."
People in the community can also bring in donations to LCHS from 4:30 pm to 5:30 pm October 30th, which will also be given to the Olive Tree.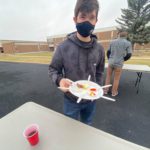 The second event put on by the BAC is the school's "Fear Factor" challenge, which is in its second year. Students engaged in a three-tier challenge, starting with a baby-food eating challenge, bumping up to semi-finals of eating sponge cakes with ketchup, mustard and relish and to end it, and a finals of eating oysters, pickled onions and prune juice, among others.
Dwayne Jeffery, the Leadership Teacher and person overseeing the group, says both of these events are a way to captivate the attention of students and inspire a sense of togetherness on campus, especially during COVID-19 times when this can prove difficult.
"One thing that's in the curriculum that we often try to focus on from K to 12 is community, and you see it from young kids up to grade 12, and to see my senior kids so excited about this activity, and to see the whole school, all the people, all the things we've already collected, we see that the whole school's is getting behind us, and we hope we can build this up."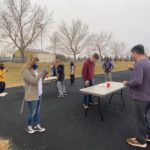 The BAC students plan to do a Rudolph's Roundup in December, raising toy and clothing donations for the community.