During November, the Lloydminster Interval Home Society is looking to educate residents on family violence,  gender based violence and the impact it has on communities and those involved in the incidents.
CEO Angela Rooks-Trotzuk there are several misconceptions surrounding domestic violence and Family Violence Prevention Month will help clarify those misconceptions.
"[They say] domestic violence doesn't happen here or it's only in certain cultures or certain socio-economics and the fact remains is that domestic violence can happen to anyone. The interesting thing is everyone knows someone impacted by domestic violence so it's pervasive, it's in our community and it's complex."
She says the first step is to accept the issue can happen in the community and the next step is to learn about the resources available in the community in order to help someone who may be affected by family violence.
Rooks-Trotzuk says Saskatchewan has the highest rates of domestic violence and Alberta the second highest. She adds the pandemic has also played a part in an increase in calls to the organization. In 2019-2020, the Interval Home had 2,568 requests for shelter and 2,200 were turned away due to limited space.
Rooks-Trotzuk mentions there was a several week delay after the initial stages of the pandemic before they saw the complexity of cases and intensity of violence increase.
"Anytime you have increased stress in an already tenuous situation you will see the release valve come off and that could mean domestic violence in the home. We are anticipating again a spike in cases and in complexity, so we are preparing to see that into our programs."
Deputy Mayor Aaron Buckingham says raising awareness is key in understanding the complex problems associated with family violence and the supports in place to help residents in those situations.
"The Interval Home, like many organizations in our community, plays a really big role in making our community what it is in providing those supports and services. I encourage people to find out more about the Interval Home, what they do and how they can support the Interval Home."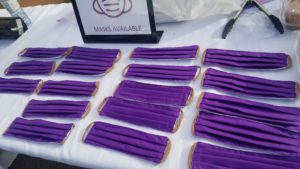 Patrick Lancaster, FCSS manager of Social Programs and Services, says normally they give out purple ribbons in connection to the campaign, however this year they went with masks instead. A limited quantity was made for the launch event, but Lancaster says if residents want to show their support they can contact Dawn Interiors for similar masks.
"Every year FCSS partners with the Interval Home to raise awareness around Family Violence Prevention Month. FCSS is prevention oriented so we're very much focused on getting people the right information and resources they will be better equipped to deal with a crisis whenever it occurs."
The Lloydminster Interval Home Society will be running presentations throughout the month as well as putting up more information through billboards and other avenues about family violence prevention.
One of the events scheduled for the month is Breakfast with the Guys on November 5th. COO Charlene Rowein says this year, the event is hosted online with Jake Stika, executive director of Next Gen Men, as the keynote speaker.
"He's done presentations all over and built a program for men and boys to learn how they can handle their own pain and understand how they can prevent harm whether it's supporting other men in their community or even themselves if they are having troubles."
Residents can access the Lloydminster Interval Home's crisis and support line by calling 780-875-0966 or texting 780-808-1777. Rooks-Trotzuk says the organization continues to work on raising funds for a new emergency shelter and transitional housing facility to support the victims of domestic violence.