Students at Father Gorman School got a unique way to learn about the principles of flight: launching rockets.
As part of a unit on Flight, students got a hands-on, in-person look at how rockets fly by launching them at Jaycee Park. The children investigated how the forces like thrust, drag, lift, and gravity act on living things and constructed devices that fly. As part of the unit, students also looked at the past, present and possible future of human spaceflight or space probes.
Grade Six Teacher Dave Heculuck says that it was not only a way to foster learning outside the classroom and get kids out and about again, but also helps them develop more inquisitive questions of their own.
"That's really the essential part of this, is to ask questions about flight, having seen a rocket like this operate. So questions like, 'What does the sound of a rocket mean?' 'Why does the parachute deploy?' 'What are the principles of drag that recover the rocket for us?' So, those kinds of questions."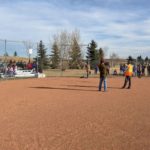 The lessons also built-in learning about First Nations and Indigenous theories on flight, and how those communities have used it. This is through physics means like the throwing of an Atlatl or the fletchings on an arrow. In addition to that, children got perspective on spiritual stories, such as ones of how birds fly or develop colourful feathers.
Heculuck explains that by merging these scientific and spiritual lessons together, students can learn to understand many aspects of the world, and in different ways.
"We can explain a lot of things scientifically, with fact, but having a different way of knowing things, we want students to understand, is as valid and as important in their world. So understanding something spiritually, and connecting to what we can think of as scientific fact, they're not disconnected. They're not mutually exclusive, they need to be together."
The day also made an impact on students too, like sixth grader Olesya Chirkova, who says it really showed her what rocket flight was like outside of a textbook.
"It was really fun, honestly, we were all super excited when we got to come here. We've seen it on video, but seeing it in person was really exciting too."