Students and staff at Lloydminster Comprehensive High School gathered together digitally to honour Canada's past and present veterans.
Due to ongoing COVID-19 related gathering guidelines, the school was unable to have a large ceremony together in the gym, which would normally have veterans and active service members coming in, a cenotaph set up and a band playing. LCHS worked around this by having a ceremony being live-streamed in one room, while students listened in their own classes, wore their poppies and had a small candle lighting as well.
Teacher Tara Dixon, one of the organizers of the school's Remembrance Day programming, says its important to keep this going as it reminds people that veterans are people of all ages.
"A lot of people still have that image in their mind of the grey-haired veteran, and I think part of the message, particularly this year, is making people aware that veterans aren't just the WWII vets, they're younger people, many of them are in their late 20s, 30s, 40s and they're just everyday guys you see walking down the street."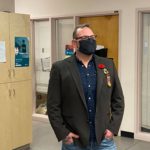 The event also did have a veteran speaker from the Lloydminster community. Retired Sargent Richard Dixon was a medical technician in the Canadian Armed Forces, serving in Afghanistan. He spoke to students and staff about the importance of remembering people who served, and the people continuing to serve.
He explains it's all about acknowledging the sacrifice that Canada's servicemen and women volunteer to make when they join the forces, and what all Canadians receive because of it.
"It's not just remembering, or etching their names in stone to pay their respects. The young men and women, and all Canadians need to understand why we were there, why these men and women fought, why they gave their lives and how they gave their lives because their life wasn't [ended] in a random act of violence or splash of misfortune. These men and women voluntarily put themselves in harm's way to defend other people."
A Remembrance Day service for all of Lloydminster will be held online, streaming from the Legion at 10:45 AM on November 11th.