Home Hardware shoppers have an opportunity to help out children with Big Brothers Big Sisters of Lloydminster this holiday season.
A Christmas Tree adorned with paper stars has been set-up in the stores toy department. Each star has the name, age and interests of a child with Big Brothers Big Sisters program.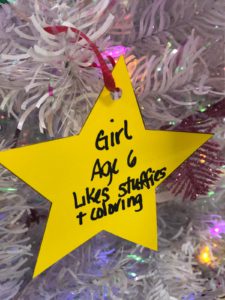 Shoppers can then purchase a gift from Home Hardware or another store and return it to Guest Relations unwrapped or in a gift bag.
"They do need to be unwrapped because Big Brothers and Big Sisters comes in and picks up the gifts from us," says marketing coordinator Laura Wich. "They go through it to make sure it's an appropriate gift for the child. They will then wrap it and distribute it to kids in their program."
The partnership began in 2017 and Wich says it's been very popular over the years.
"There's so many deserving kids in the community. We want to make sure everyone has a special Christmas and doing this is one way that we can give back. It's also a way to involve your family in giving back to the community. Having a family come in and pick a star off the tree and going shopping with your kids for these gifts is an amazing way to teach your kids to give back."
The last day for drop-off is December 15.