Four Holy Rosary High School students and five alumni will continue working towards their athletic ambitions as they secure a spot with a post-secondary program.
Three student-athletes in the school's football program and one track athlete have committed to universities across the country. Sarah Schwab, Clay Vetter and Lucas Seffern are headed to Saskatoon to join the University of Saskatchewan Huskies. Schwab will be a part of their track and field team while Vetter and Seffern will continue playing football.
She says it took some time to get in touch with post-secondary coaches because of the pandemic but once they did the messages kept going back and forth. She says it's always been a goal to be able to compete at a university or college level.
"I have some friends who were in track at the U of S and they always tell me about how much they like the program. That's been motivating me to keep training even though we can't compete."
Schwab has mostly been focusing on her own performance this past year as provincial competitions were cancelled and was a part of the basketball team to help with her endurance.
Another football player Dillon Orieux is headed east to join the Acadia Axemen in Wolfville, Nova Scotia. Orieux says all hope was lost at one point as he was reaching out to post-secondary institutions across the country in hopes of joining their football programs.
"But then I woke up one morning and Coach McKay texted me and I was thrilled. I was beyond excited and then next thing you know I'm signing up to Acadia."
Orieux is excited to start in the fall and has goals of becoming a starter and helping the team take home a banner. His father Vince Orieux is proud to see him take the next step. Vince is also the head coach for the Raiders football team, but he says they took extra precautions to make sure there was no preferential treatment.
"When he was reaching out to schools and looking for opportunities, we had another coach get involved in that and put him as a contact so that I could be removed from that. When it came down to the actual conversations about the education then I could step in as dad and ask those questions."
Since he was two, Dillon says it was a dream of his to play on the team with his father as coach and it was special to be able to spend that time together.
"I know that since I was little that he wanted me to have a future in football. I think for both him and me it was very exciting. I'm really paving the way and I hope my brother comes up and does the same thing as me."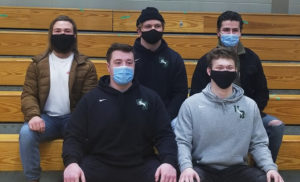 A few other athletes from Holy Rosary have also committed to post-secondary sports programs. Dante Tabacu and Nash Etson will be joining Dillon Orieux at Acadia while Evan Eide, Cullen Wagner and Chopper Hippe will be heading to the University of Regina. Hippe graduated in 2018 while the others graduated in 2019.
Vince says its a special moment to see the athletes continue following their passions as a coach.
"Some of these guys I've coached since peewee football. Some of them have come back and volunteered as a coach at the minor level and then a lot of these guys have played a year or two of junior football and are now taking that next step to the university level."
He adds their success all goes back to the balance of being a student-athlete.
"Being successful in the classroom, without that you can't be out in the field, court, track or what have you. The academics is first and foremost and sports are the byproduct of hard work."