The Saskatchewan Health Authority has announced the game plan for phase two of COVID-19 vaccination.
Phase two is when the general public can begin receiving the COVID-19 vaccine. In the plan, detailed on Tuesday, the vaccine will be given out in age increments, starting with the 60 to 69-year-old age range.
From there, it will move down by age decades in measurements of ten years. This is because the main risk factor the SHA is building their plan on is age.
Health officials say the likelihood of severe outcomes, hospitalizations and deaths related to COVID-19 are higher as people get older. People of advanced age are also more likely to be clinically extremely vulnerable or living with other chronic conditions, they note.
The province is shooting to begin this by April but could extend the date into June, depending on vaccine supply, and the speed at which the federal government actually gets the procured vaccines on the ground in Saskatchewan.
SHA CEO Scott Livingstone says that this delay does give health professionals time to get ready to make it happen.
"We've seen this delay, which has slowed us down in phase one and could potentially is going to impact phase two, [but] what it also does is gives us time to create that 'all hands on deck' and [have] that vaccine ready in every single place in the province. So once vaccines start shipping, if it starts shipping larger quantities than we expect, we'll be prepared to deliver to the people of this province at a quicker pace."
When the SHA begins vaccinating the 60 to 69 age range, they will also be giving it to people living in group homes, emergency shelters, adults in homes for intellectual disabilities, as well as clinically extremely vulnerable adults will also be included as a priority in Phase 2.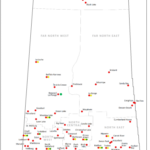 In total, 226 locations for COVID-19 vaccines will be opened across the province. This is made up of 141 mass immunization clinics, 24 drive-through clinics and 61 mobile sites. All three of these options will be available in Lloydminster.
Health Minister Paul Merriman says they will be using people from any avenue trained in vaccinating people strictly for that purpose and taking up help with security and queue guiding from local helpers when possible.
"We're going to draw on resources across the province. We may be tapping on local businesses or security services or other organizations that we know are willing to help us, because we've had a number of organizations from across this province reach out and say we're willing to help."
Public information will be provided when it's time for people in any age group to get vaccinated, where to go and how to book an appointment. This will be done by using local media, online resources, direct mail and posters.
Appointments will be able to be booked online or through HealthLine 811 when phase two begins.
Residents and staff in long-term care and personal care homes, priority health care workers, people 70+ living independently in the community will be directly contacted whenever possible to set up their time.
After a vaccine is given to someone, an electronic and paper copies of vaccination records will be available. People will receive a wallet card with a record of their COVID-19 vaccination, and they can be stored digitally as well on the MySaskHealthRecord.
Phase one currently remains underway, vaccinating priority populations outlined in that phase.