Lloydminster seniors may soon have another option for affordable housing in the city.
Ontario-based Nautical Lands Group is proposing an independent living seniors community be built on 15 acres of land in Parkview Estates at 72 Avenue and 29 Street. In their own feasibility study, the group found an immediate need for 338 housing units for seniors in Lloydminster and up to 560 in the next nine years.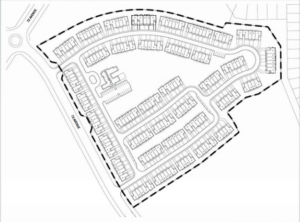 Nautical Development Planner Angela Mariani outlined the plans for the development at the Governance and Priorities Committee meeting on February 22. The company will be building roughly 185 bungalow-townhouses which people over the age of 55 can rent out.
"It's just a tremendous boost for our community," says Mayor Gerald Aalbers. "We've been looking for one for a while and I hope there is more to come in the near future."
One of Nautical's goals for the development is to keep the units affordable for seniors. The company tries to pre-fabricate as much as they can and services like meals and homecare aren't included which Mariani says helps keep the costs down for renters.
Construction will be done in phases starting with the club house in the centre and the units closest to it. Mariani says other user groups in Lloydminster will be able to use the club house.
During the meeting, Nautical mentioned there could potentially be opportunities for local contractors but it depends on a case-by-case basis. There could also be other jobs in the club house and maintenance for locals once the buildings are up.
"Based on the work that they'll be doing it will be limited but if you get five job then that means there are five more people working in our community and when you look at the unemployment rate you take what you can get," says Councillor Michael Diachuk. "Not only are you going to have the housing for seniors, there will also be opportunities for people to find jobs."
He adds another benefit to this new development is it gives seniors who are looking to sell their homes another option for housing outside of the current care homes in the city.
"Even though it's a different style and different need, I think there are people potentially going to Pioneer Lodge because there are no other facilities to go to. When we look at our demographics, not only does it fulfill a need within the immediate future but for years to come as the city grows. It's an ongoing demand and what better industry to have growth in than taking care of seniors in our community."
The city and Nautical entered into the land sales agreement on November 10, 2020. The next steps will be for council to pass a land use bylaw amendment and other plan amendments. Work on the community space is expected to start this spring.