The Lloydminster Youth Council celebrated Kindness Wins Day by bringing some joy to the City's seniors.
Young people involved with the organization would typically take seniors out for special activities on this day, but due to ongoing restrictions around the pandemic, their team had to adapt. This year, they had an outdoor visit at all the Lloydminster's Seniors homes. They held up signs expressing their caring and love and dropped over several baked treats for the seniors.
Chloe Roberton, one LYC member who was at Pioneer Lodge, says even though the pandemic limited what they could do, they still knew they needed to do something.
"It's a good opportunity to bring them some joy, it's been a long winter for them and with COVID and everything, not getting lots of visitors, you can definitely see the smiles on all their faces and the joy it brought them. So we're super excited we got to do it, and we hope that we can continue to do it until COVID goes away."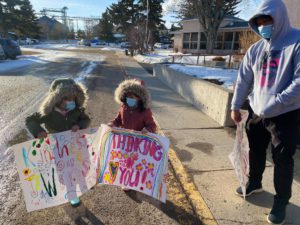 Seniors homes have largely been locked down to most visitors, and when they can visit their relatives, those are limited to where and what they can do as well. Also, events inside the shelter for the seniors' enjoyment and wellbeing have had to adapt around the pandemic and health guidelines.
Pioneer Lodge Activities Director Karen Stenger says that doing simple things like this, can greatly help the mental health of the people living in these care homes.
"There's just such a connection between seniors and kids, they just love them. They don't even have to do anything, they just put smiles on their faces. It brings back memories of when they were younger, and it helps us prevent the isolation we've been experiencing for the past year."
Roberton adds that it was also impactful for her on a personal level because she has been missing loved ones living in a care home as well.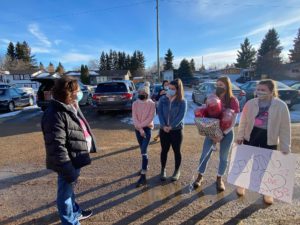 "My great-grandparents are down in Provost in a senior home, and I have not gone to see them since we did a window visit on New Year's Day, and that's all. I haven't gotten to see them or hug them, so I definitely know the feeling of not being able to hug the people we love. So this is the best we can do right now, so I think it's great we get the chance to do it."
Stenger also encourages people who want to help but aren't show how to reach out to their local seniors' homes for guidance.