Rendell Park Elementary School is showing their gratitude to all the essential workers and organizations who supported them throughout the pandemic.
Grade 6 teacher Jenna Dease says students throughout the school have spent the past month making "Grateful Greeting" books. Students filled the books with drawings and notes thanking several different organizations in the city.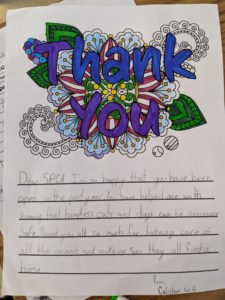 "It's amazing to see all of these young students taking ownership in their own way to give back to our community. I know in some way they want to give back to those around them."
The project came out of a conversation with the students discussing how did they get through the past year and who supported them during that time.  Thirty books were made and will be going out to organizations chosen by the students such as the Lloydminster and District SPCA, Walmart and the Lloydminster and District Co-op at the start of March after they've been set aside to quarantine.
"One of the things I heard [from a student] was that they didn't realize how many organizations have helped them. This is a great opportunity for conversations about how I went to the grocery store and I wouldn't be able to have food in the morning if the grocery store was closed. Local businesses are the reason why we are able to have what we have in our house and we wouldn't be able to do what we do around our home without them."
Dease says the lessons learnt from the project are also reaching those beyond the classroom.
"In my classroom, they've been talking about how my younger brother is doing it about this organization because they helped us with this part of our life. They are making this connection with their family members too in our school about how different siblings see different perspectives of how organizations have helped."
Not only will the organizations be getting their gratitude books but they will also be getting a short video message from one of the students, once again thanking them for their support. The school will also keep photocopied versions of the books for students to see what other classes did for their books and how they got through the tough times.