One man has been arrested after crashing a vehicle into the front doors of the Lloydminster Hospital.
Around 8:50 PM on March 17th, the Lloydminster RCMP was alerted that a vehicle had been allegedly stolen from outside a business near 50th Avenue and 44th Street. In the minutes after the car was stolen, many other calls came into the detachment as the vehicle was speeding around the city.
During this time, the RCMP was informed that the driver had crashed through the front doors of the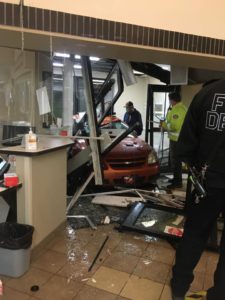 Hospital, causing considerable damage. Staff members there were able to point out the suspect to officers, and he was arrested.
The suspect is a 40-year-old man whose name has not been released by the RCMP. The investigation is ongoing and charges are pending.
No staff or patients at the hospital were injured as a result of this crash.