An anti-racism coalition, Lloydminster and Vermilion for Equality, is working to get some signs they're calling hate speech removed from public display at a home in Vermilion.
The signs, written on papers and attached to fences and trees on the home's property in the 50th Avenue area, are alleged to have been put there by the property's owner last year.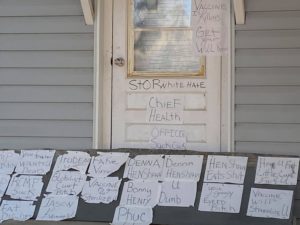 There was also previously a concern about signs like this on the property in 2017, according to Global News, but charges were never laid because Crown prosecutors did not believe a conviction was likely.
Some of the signs contain racist messages, while others profanely attacked the RCMP and people like Premier Jason Kenney or Dr. Deena Hinshaw.
A Saturday march was attended by people from Vermilion, Lloydminster, Edmonton, and Calgary. The protesters started at City Hall and went to the Vermilion RCMP building before holding a rally outside the home in question.
Tigra-Lee Campbell, one of the founders of LVFE, says the protest was not only to support BIPOC people in the community but also to call attention to the fact that they'd reached out to Vermilion Town Council and RCMP before, but felt there was a lack of response.
"To me, it just made it seem like this was not being taken seriously, and it is very serious. You know, people do wrong things and make mistakes all the time, but it's really about how you come away from that; what accountability are you taking for yourself?"
In a response on Wednesday, Vermilion Chief Administration Officer George Rogers said that he was also personally disturbed by the signs and understands the frustration, but the town is to work within its powers under the Municipal Government Act.
"The reason it took us this long is that we want compliance. [There's] a lot of frustration from people to suggest that we could have done something sooner, but the truth is until we can actually compliance, really orders, fines, and certainly, unless we have something that could go as far as that the Crown Prosecutor could take to court, we're really no further ahead."
As of this week, the signs were up once again at the property after being removed for a short period of time, something Rogers says the RCMP is investigating.
The property owner has not responded to media attempts to contact them, and Rogers says he has not been cooperative with them either.
Right now, the town nuisance bylaw order #7-87 says the property owner has until the 27th to take them
down, after which a fine will be issued. If the fine is not paid and signs removed, the town can take action with the Crown Prosecutor. However, Rogers has noted that this is not a quick process as it does have to work within this law.
During the protests, many people drove by beeping their car horns in support, offering thumbs up and encouraging words. In one case, a passerby even gave protesters a small hammer and some nails so they could put up anti-racist signs over the offending ones.
LVFE is also calling on the town to consider holding anti-racism seminars so that Council might better understand how they can support marginalized communities. Campbell says it was encouraging to see people be supportive and it tells her that the group and the town are on the same page.
"I do really think that we were leading by example, and these people will start to put their foot forward, and be more assertive."
Rogers notes that he believes the Vermilion community was in agreement that the signs are hateful and want them gone, and encourages people to reach out as well if they have concerns about this or anything else in the community.
"If we have the ability, we will certainly do what we can. So I'm going to continue to pursue the administrative methods that I have, to the best of my abilities, and we'll continue to work with the RCMP, and I'm hoping this will be a distant memory very soon."
Campbell adds that the next steps they're taking are working for grant funding so that they can provide or hire up BIPOC resources to communities for this kind of training and awareness. In the meantime, she encourages people to have discussions at home and in their social circles as to how they can support BIPOC groups in their own way.