The Lloydminster Public School Division and First Baptist Church are ramping up to the Easter Weekend by feeding families in need with hamper donations.
Along with a fleet of volunteers, the two organizations spent Thursday morning organizing tables of canned and boxed food to be sent out. In total, 50 hampers of necessary food supplies were able to be built from community and Olive Tree donations.
The hampers then go to families who have been either identified as needing the support or ones that have reached out for assistance as well.
LPSD Family Liason Gina Nelson says these easter hampers, along with ones they do throughout the year, offer families a stigma-free way to get the food they need.
"[When] delivering the food hampers, as I get to do some of that, and honestly its, it's just so emotional at times, but also there's so much gratitude. Some families don't want to reach out and ask, but [we've] been able to just kind of say 'Hey, you know what, we've got this coming, would you like it?' They're very grateful."
Along with canned food, all 50 families will receive an Easter ham, which was funded by the Church's congregation. In addition, 300 pounds of hamburger meat was donated by a business that chose to remain anonymous.
First Baptist Church volunteer Kenton Giesbrecht says he is always very thankful to see the community's support for these causes, as the two groups have been doing hampers like this for years.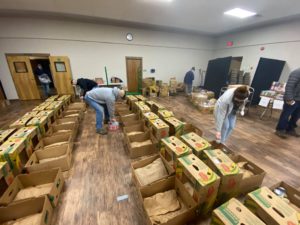 "It's so exciting, just to see that when there's a need in Lloyd, those that have the financial ability to give, or the hands to, the people in our community are so willing to assist and to help those who are in need, so that's nothing but exciting. It's awesome."
From here, the hampers are being delivered out to the families before the Easter holidays begin.