New families in the Lloydminster Hospital Maternity Ward now have another way for all the relatives to meet the new baby, thanks to a donation from Best Buy.
The local branch of the tech store dropped off eight Lenovo digital tablets on Tuesday. The staff were looking for a way to donate a thousand dollars worth of product to the community and were connected to the hospital to make it a reality.
Best Buy Lloydminster Senior Advisor Emily Rowat says that not only did the team want to help, but some of their crew had babies themselves during the pandemic, and wanted to thank the hospital for their amazing support.
"We decided that the tablets [were] probably the best, especially for the maternity ward, just for videos, for being able to help them out, especially with not being able to have visitors in the ward, they can even do a video call with the family or something."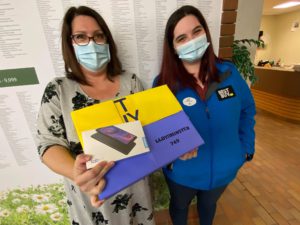 The new tablets will be used in an educational capacity, says Nurse Manager Lisa Yushchyshyn, in order to continue the ongoing process of streamlining patient advice from hospital to home.
"We want to make it more accessible for when they go home, to be able to hear the same thing from when they were in the hospital. So, we've asked some of our nurses to do up some scripts for patient education that will get put on YouTube. The education will start here, they'll be able to see it first here, and then they go home and realize the exact same education is available there."
Aside from that, it will also help with keeping families connected to their loved one who has given birth and the new baby. Yushchyshyn says this has been challenging given the pandemic, but will also go a long way even after it is over.
"Lots [of patients] have their own cellphones, but lots don't as well. So there are those that don't have the electronics or the data to be able to do it, so us being able to do that will be great."
Best Buy and the Hospital are now working together to roll the tablets out right away.