A couple is without a home as an historical building in Lone Rock is no more.
Wilton Fire crews were called out on Monday May 3 at about 10 am, as flames were seen coming from the old Lone Rock United Church.
Lloyd Ludwig had purchased the place of worship and was using it as a dwelling. The last religious service in the building was held around 2017 or 2018. Ludwig was at home with his dog. His wife was not at home at the time of the fire.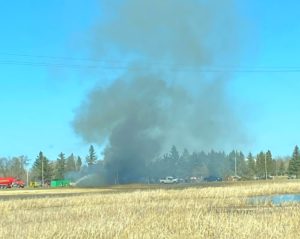 Ludwig is reportedly very distraught at this time. Fire crews have not indicated the cause of the blaze and were still working at the scene into the afternoon.
Lone Rock residents will be starting a Go Fund Me page to assist the Ludwigs.
_________
Correction: Lloyd Ludwig and his wife lived at the property. His wife was not at home when the fire broke out.