The Bike for Breakfast YLL team of cyclists are getting closer to their goal and they have not even hit the road as yet.
With the cuts to school feeding programs, the idea was to find ways to raise funds to feed the kids and ensure that their nutrition was in place to support their learning. The team have been training as they aim to cycle from the Border City this weekend to Tuffnell, Saskatchewan and back.
It's a total of some 1,046 kilometres that 11 Lloydminster residents will attempt and some of them have never ridden on an open highway before.
Fundraising events and donations have been coming in as they aim for two hundred thousand dollars through their efforts. Their hard work has not gone unnoticed.
On Wednesday, local grocers Lloydminster and District Co-op and Sobey's have matched donations at $25,000 each for a total of $50,000 going to the school feeding fundraising campaign.
Leanne Hawes, Chief Executive Officer with Lloydminster and District Co-op says feeding local families is foundational to their organization.
"Food is one of our core business units and to donate and work with these schools in this capacity makes sense for us and makes sense for the schools. We know that nutrition really sets them up for the day, whether it be in the ability to accept that education a little bit easier or in social circles to help make friends."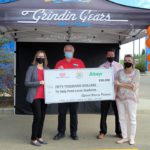 Sobey's Kevin Rusteika expressed pride in the partnership of the local grocers teaming up for feeding programs for the next generation. He sees proper kids nutrition as being important to help the teachers and support staff.
"It's also a win for the teachers and admin staff in these schools. I know as a coach and as a teacher, when you have focused children, and they are obviously a lot more focused when they are not hungry, it just makes everyone's job and life a lot easier."
The campaign to fill the school feeding shortfall comes at an important time for all concerned as organizers and community supporters recognize that their efforts may have to be sustained going forward. Rusteika chips in on sustaining such programs as he is personally willing to stay on board.
"When something is this phenomenal, and how they have done with it in such a short period of time, it's not going to be a one-off. It's going to be something that carries on in the future."
The Bike for Breakfast cycle team will leave from Lloydminster on Friday at 5 pm.
Their fundraising efforts will pitch in for breakfast programs in both Lloydminster school divisions, Buffalo Trail Public School Division which covers Kitscoty, Marwayne, and Paradise Valley, Onion Lake First Nation School, and Northwest School Division that comprises Lashburn, Marshall, Marsden, Neilburg, Hillmond, and Paradise Hill.
More information can be found on their Facebook and Go Fund Me pages.