A physically distanced band-room has been set up outdoors at Holy Rosary High School, allowing their school division to adapt around COVID-19.
On Monday Lloydminster Catholic School Division and the Tent Guys debuted their workaround. The innovation allows students from across the division to play their instruments under three tents that Tent Guys are pitching in.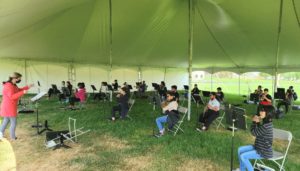 The $25,000 donation offers outdoor coverage as the full band will be able to continue to practice while adhering to COVID protocols.
The Tent Guys are in their 25th year and owner Pamela Becotte says striking up the tents to keep the music playing was a no-brainer.
"They didn't have enough room in the classrooms to do it safely with the restrictions that we're in, so we were approached by the school to see if we would be able to help them with square footage outside and we were able to supply essentially 3 classrooms outside. They're busing in kids from all over the division with the band classes to be able to participate outside here."
Tents of that size have a capacity of about 150 persons and before COVID would have been used for events like weddings. Becotte notes the benefit to the students who can continue to hone their musical prowess.
"It's amazing to be able to give back in such a substantial way to these kids. A lot has been taken away from them due to COVID. So if us donating the use of three tents was able to impact  them that way, it's moving."
Holy Rosary High School Principal Vince Orieux confirmed that grades five to twelve across the Division, that's about 300 kids, would be coming over to the school every day for band practice. So about every 40 minutes, a different band group of about 30 students would be under one of the tents. The advantage of this option is music to Orieux's ears.
"It's a great commitment from the Tent Guys to our Division to be able to give up their tents for an extended period of time and have them located here. So it's awesome."