The Lloydminster Public School Division are stoked as Synergy Credit Union is partnering with them to set up an enhanced recreation facility at the Lloydminster Comprehensive High School.
On Thursday, Synergy top brass were on hand at Lloyd Comp committing to $500,000 with naming rights to the field-house for the next 10 years. The build is targeted for the end of the year with a start up of September 2023.
Synergy Lloydminster Branch Manager Gord Thiel says they are thrilled to make these opportunities available to the students and the community.
"The facility will be available to enhance the day to day wellness of students within the public school division. It really appealed to us because of the community aspect and the willingness and ability to open up to the rest of the community at large who are looking for facilities to meet at."
The project will have benefits for students and the community adding 4,400 square meters to Lloydminster Comprehensive. The field-house and gathering area will be 1300 square metres with a community entrance.
Still on the drawing board for the project are 12 more classrooms, two science rooms, two multi-purpose rooms, arts and tech classrooms, fitness centre, storage rooms and a student foyer.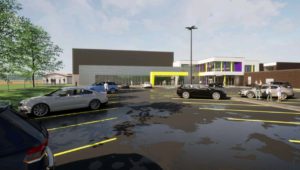 Todd Robinson Director of Education for Lloydminster Public School Division says both organizations share common values in making the community better for those that call Lloydminster home.
"I think what we are celebrating today is the contribution that allows us to build a facility that will serve the needs of our community for years to come, get it more in line with what we saw as our needs. Certainly Synergy has come along side and said we see the vision for that as well. It is a significant contribution when you're talking about $500,000. That's incredibly generous. It allows us to think about things and dream about things that we simply could not do"
The Synergy support comes at a time when the Saskatchewan government had already indicated  an upgrade project for the school to increase enrollment from 900 to 1,400 students. Robinson said that's a multi faceted project valued at about 25 million dollars.