With Cowtown bustling with the return of Stampede, one Calgarian took the opportunity to be in Lloydminster and the Midwest  region to visit family and experience the rural getaway.
Dawn Gladysz who teaches school kids in Canada's oil headquarters is wrapping up a ten day visit in the Midwest.
"We went out to the Shiloh Baptist Church, its near Maidstone. It was so interesting. On that drive we stopped at the local corner store [at Alcurve]. It was really busy. We have done so much."
Her world-wind tour included Bud Miller Park, several lakes around the area including Peck Lake, Paradise Hill, Onion Lake and Paradise Valley.
"We've been around and looked at the crops. Looked good one week and when we came back not so good. Drought conditions are here. It's very dry. We looked at different farm machinery."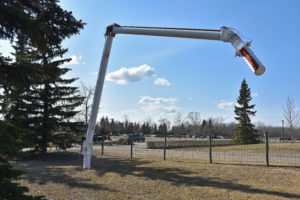 Gladysz grew up in Saskatchewan and has lived in Fort St. John. She returns to the big City with some fresh perspectives for her students.
"I take the idea of the rural area into my classroom. They really enjoyed it when I had Grade One and you teach Urban and Rural and I had farm equipment. City kids have no idea what farming is all about and where their food comes from. They really enjoyed the days when they got to play on different equipment and we set it up in different seasons."
Gladysz also visited the replica of the Canadarm, that's on the grounds at Lakeland College. The Canadarm was a remote controlled mechanical arm used by NASA over the 30-year Space Shuttle program.
Gladysz urges people to get to know their surroundings and their community.