Young volunteers from the Lloydminster Community Youth Centre have laid down the first strokes in beautifying a part of the city's downtown.
The youth began 2021's Graffiti Cleanup Thursday, which seeks to cover up all the vandalism with a mural reflective of the community. Volunteers with the Lloydminster Native Friendship Centre joined in as well. This year, they'll be painting over the back of the Hot Peppers Clothing building.
Amber Fast, the City's Community Development Coordinator for Social Programs and Services, says the painting project instils a sense of pride in the community.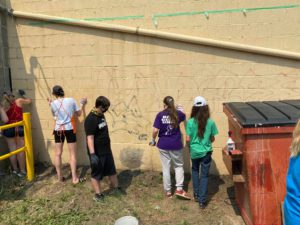 "Our goal here is really to include the kids in the betterment of our community, to give them something to be proud of, and to work towards. We really believe that these kids are our future, and they are going to be the leaders someday."
When the mural is completed, it will have two different themes, both representative of the Lloydminster community. One side of the building will depict a cityscape, showcasing sports-related elements such as the skate park, among others.
The second side will be entirely themed in Indigenous Culture, which Fast says is a large part of the Lloydminster community and should be reflected.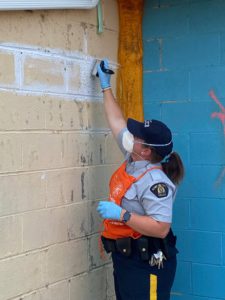 "That'll be animals such as the beaver, buffalo, eagle, wolf. They all have specific meanings in Indigenous culture, they'll also have some teepees, a circle of children with an Elder. Levi Wolf from the Native Friendship Centre helped us with that, [as did] Mitch LeBlanc from ArtSoulLife.
The first step, undertaken by the youth today, will require them to strip the wall of graffiti and paint the base coat. From there, they'll return every two weeks until the end of summer to complete the mural.
This is the sixth year the mural project has been done in Lloydminster.