From their base in Big River, which is slightly southeast of Meadow Lake, a team from the Lloydminster Fire Department is lending support as the Province battles wildfires in the north.
The team is doing a seven day stint and if called upon, LFD will rotate them out and have another team deployed. Saskatchewan has over 170 wildfires burning as of this week.
Fire Chief Leigh Sawicki says they had been in touch with Provincial authorities and were expecting that at some point, they would be called upon to pitch in with the provincial effort. A six-member team left the Border City last Friday, July 16 with two fire trucks.
"Friday seemed to be a pretty busy day. The team travelled to five different locations within the Buffalo Narrows area and then settled in the Big River area, as the main place of deployment if they are required anywhere else in northern Saskatchewan."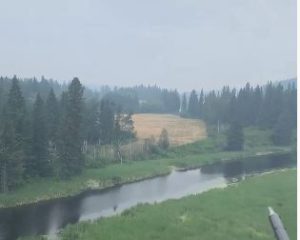 Sawicki says they have been tasked to provide structural protection among other duties.
"Primarily the responsibility of our crews going up is for structural protection of cabins and small towns and municipalities that are in that area. We can be tasked to assist with any wildfire efforts in the area, if it's deemed necessary by the fire base commanders there."
Sawicki adds the team is working with Forestry Services to make sure LFD equipment is a good fit with what is already there, as well as doing vegetation management.
The Fire Chief noted that a lot of the communities in those areas require support as their crews are out battling the big fires. If the fires encroach further, then LFD crews could be sent into the forest to help hold the line and put out the blaze.