The dream to have a tranquil outdoor space took some nine years to see the light of day, but Wednesday afternoon finally witnessed the ribbon cutting as the Thorpe Recovery Centre showed off their Serenity Garden.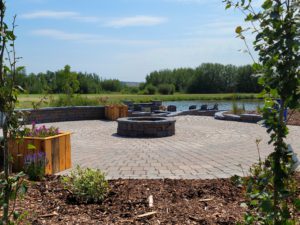 The new space basks on the banks of a nearby pond and is circled by one kilometre of walking trails.
The main seating area can be accessed by a walking path and has a firepit for the late Fall evenings and a small cascading water fountain for clients to fully explore a second chance at life as they journey on the pathway to recovery.
Development Coordinator Sara Fox is expressing TRC's gratitude for the community support that has seen them through, especially over the construction phase in the last three Summers. She says the new outdoor space is already in use in their recovery programming as they enjoy the green and the beauty that nature provides.
"It's really important to get outside, move your body, enjoy nature and get some fresh air. Just being okay with yourself outside or even be okay with other people outside, especially with what we have been going through with the pandemic, we have all realized that getting outside is really good."
Construction teams have appreciated the overall dry weather and were able to complete the Garden which had been challenged by the weather of previous Summers. Fox says it allowed them to finish the landscaping and they have been using the Garden since about May.
Fox says clients have pitched in their ideas for the Garden.
"We had a few focus groups and consultations with clients over the years of what do you guys want or what would inspire you to be outside. So the walking trail, the firepit and the seating area, so they could enjoy time outside with their groups and their peers."
Fox mentions they also got a donation of some beehives, so clients who are inclined could not only assist with the gardening, but can explore their innate apiarian skills. Also, an orchard which was not part of the original designs has also been donated, so clients can look forward to some fresh fruit next year.
MLA's Garth Rowswell and Colleen Young were on hand for the ribbon cutting as the Thorpe Recovery Centre celebrated the first phase of this vision.
The second phase is already being mapped out and includes a gazebo, more pathways and a bridge over the pond.