The Servus Sports Centre's North Fieldhouse has a new name.
The area of the sports complex was renamed under the First Onsite banner Thursday, in a ceremony attended by representatives of the City, First Onsite and the public. For the naming rights, First Onsite invested $20,000, which will go into operations of the centre.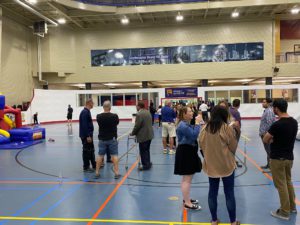 First Onsite Lloydminster manager Rick Stephens says they wanted to continue the community spirit set by the Stieb Family, who formerly owned the business under the Spectrum Restoration name.
"My family has been here for about 25 years now, and I remember Lloydminster without this facility. Just being able to see the number of new sports that can be developed, being able to expand the seasons so that you can have the baseball and the softball tryouts in the middle of February and not have to wait for the curling rink to melt to do it, it's beneficial."
Mayor Gerald Aalbers, who welcomed the donation Thursday, noted that in addition to providing a space that encourages recreation and people of all ages to grow in their chosen sport, the investment from First Onsite allows the space to be run cost-effectively.
"I think it's just great to see the businesses in our community give back and support the community because it just helps to lessen the tax base cost to the taxpayers and keeps reasonable rates to use the fieldhouse."
Residents can now find schedules, hours or book time for their sport on the City of Lloydminster's website.