The Lakeland College Rustlers women's hockey team will have Kings Energy Group as its title sponsor.
This announcement came ahead of the team's first home game as they drilled the Irma Chargers by 15 goals to nothing.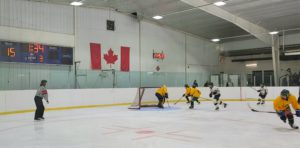 President of King's Energy Group Darren King is proud to associated with Lakeland College and is happy to be able to give back to the community as they support women's hockey.
"Everybody has leadership abilities within them. They just have to find ways to hone them and sharpen them and we know that sports provides that opportunity. The Rustlers have a proven track record of producing leaders and this new hockey program is going to do that. So I'm really excited about what an education and an opportunity to refine leadership skills does. "
The Lakeland College Kings Energy Group Rustlers Hockey Club had Jayde Cadieux share on their outlook for the season.
"What we can expect on the ice is I think we are going to be a very hard working team. I think our main goal is just to work hard and out work the other team with our aggressive forward check and always be defensive."
Cadieux is from Cold Lake and played for two years with the Lloydminster Midget Steelers. She is grateful for the community support in setting up the Lakeland Rustlers team.
Alan Rogan, Lakeland's Director of Athletics expressed his pleasure to be able to work with Kings Energy Group. He noted their passion for sports in the community and that they share the same ideals.
Rogan is looking to the next steps of their hockey program.
"We're actually putting in an application to the Alberta Colleges Athletic Conference to be a part of the ACAC or the Colleges post secondary women's hockey program. That application is going in this year. It's going to be vetted this year we're going to request early access to commence in the 2022-2023 season so next year."
He is thankful for the community support as they show the ACAC that they have a facility and they can play competitively.
The Rustlers are playing in the Alberta Junior Female Hockey League and their next game will be at the Russ Robertson Arena on Saturday October 16th against the Calgary Titans. Puck drop is at 7:15 p.m.