When students tape the physical education teacher to the wall, there better be a good reason apart from wanting to get back for those tough routines.
Some $2500 later, this was part of a list of shenanigans that the Holy Rosary High School community dished out to raise funds to fight cancer in the name of Terry Fox.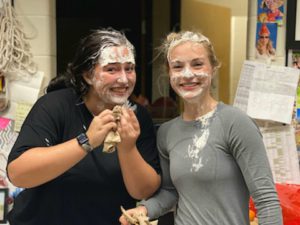 Some of the other activities included hair shaving and getting pie-faced.
Physical Education teacher Becky Grassl explained from on the wall that the Canadian cancer warrior means a lot to her.
"Terry Fox is our Canadian hero. He was dealt a hard hand and he didn't just make the best of it, he went above and beyond and did something that nobody thought he could. He has made a difference in everybody's lives. We have all been touched with cancer in one way or another."
Grassl said they want to keep the Canadian icon's dream alive and the physical education teachers chatted about going bigger and better for Terry Fox this year. Her proposal was to hang on the wall.
Over the last week, the school community has been literally on the run, just like Terry Fox did to raise funds and awareness about cancer, said Grassl as she adjusted herself from her wall-taped predicament.
"I can slowly feel myself like going down and down, millimetre by millimetre. So we will see. My period five kids might have to peel me off here at the end. I don't know what's going to happen."
Grassl was eventually rescued from her duct-taped confinement capping off a day of fun fundraising and bringing greater awareness to Terry Fox and the importance of the cancer cause.