"I want to talk to you about everybody's friend. The happy musical guy that passed away on a hillside on a trip to Edmonton. I want to talk about a First Nation's gentleman that suffered unimaginable trauma at the hands of the Residential School system. I want to talk to you about the teenager…(sighs)."
Tyler Lorenz's voice fades off at the microphone as emotions overcome his composure while making his comments at the opening of the exhibit Opioids Don't Discriminate. The Executive Director at Residents In Recovery and frontline worker has seen the effects of an overdose several times over.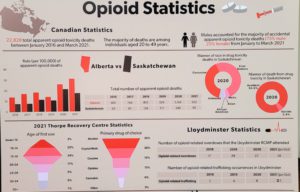 He shared that the local RCMP over a two day period recently had to respond to overdoses that resulted in four deaths. A graphic on one of the displays shows that so far this year, Lloydminster RCMP have had to respond to 38 opioid-related overdoses.
Lorenz said at Tuesday's official launch at the Civic Centre Auditorium that the exhibit aims to break stigmas surrounding the addict to allow people to see their humanity.
"Those people that this exhibit depicts, none of them are criminals. They are just innocent people. One of them is a mom who is separated from her husband or divorced from her husband and has a child who struggles unknowingly with addiction. Another one is a 16-year old kid. Your buddy who you play hockey with and twists his ankle and then is prescribed. People don't set out to become drug addicts or criminals."
He says if people can see any empathy for these individuals, any one of them could easily become caught up in a life of addiction.
Lorenz is concerned that society is criminalizing persons who are battling a drug habit.
"Even having a prescription drug that isn't your prescription, you're essentially as far as our community and our society says, you're a criminal. And if you get caught with those, you will be charged for possession of a narcotic. We are criminalizing those that are just trying to survive."
Lorenz concurs that people need to be held accountable for their actions, but he does not agree with criminalizing the addict.
"There has to be consequences for actions. I don't think anybody disputes that. But criminalization is just stigmatization of individuals. This isn't a punishment issue. You can't solve addiction through punishment. It doesn't work. Individuals that are struggling with addictions and are committing crimes to survive, in their minds, they are just doing that to survive. To get through another day."
He says by putting them in jail, isolating them from the community and taking away all their supports to recover, that is not the answer.
"We can't jail away our problems with addiction. It just doesn't work. We need to find better ways to support these individuals. Intervene early before it becomes out of hand."
The Opioids Don't Discriminate exhibit was developed by Strathcona County FCSS  and is being hosted by the Family and Community Support Services (FCSS) Lloydminster at the Civic Centre Auditorium until Sunday afternoon at 6 p.m.
There will be a keynote virtual presentation from Petra Schulz of Moms Stop the Harm on Friday November 5th at 6:00 p.m. Residents may register for this online at EventBrite.
Residents are being invited to visit the exhibit this week. Keep in mind that access will be granted according to COVID health protocols, i.e. proof of vaccination and/or a negative test within 72 hours. As well, the Auditorium also has a maximum of 40 visitors at a time.
More information can be found on the City's website.
MyLloydminsterNow will present more content from this exhibit over the course of this week.