"Here we are at the LloydMall. Forty-eight years after it was first conceived and constructed. Reopening after a very challenging issue."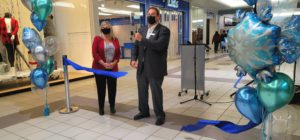 Mayor Gerald Aalbers was on hand for the reopening and ribbon cutting of the LLoydMall. This after the August flood shuttered the bulk of mall operations. The mall team is putting those difficulties behind and Aalbers commended the retailers for battling the hard times which were compounded by the economic situation of the last 20 months. He encouraged the community to be a part of the mall once again.
"This is the time to show your support. Shop local. Think Lloyd first. Think LloydMall first. As you plan for your Christmas purchases and those of others, this is a great opportunity to support a local business right here in the mall."
Aalbers continued with his invitation noting that local businesses in turn support local charities each and everyday.
General Manager Kim Richer said they took the opportunity to make everything bright and cheerful and rolled out their Christmas decor for the holiday season. She noted that while the food court is not yet open, they have partnered with Safeway and Starbucks and have spread some of the seating through the mall allowing shoppers to get a coffee or food items from the deli. She said the food court could see some of the retailers returning before the end of the year.
Richer said it is phenomenal to see the community back in the mall again.
"That's why we are really saying LloydMall is back and please support our LloydMall retailers. They have lost three months of revenue and three very strong months with back-to-school and the upcoming holiday season. We have already lost 50 per cent of our holiday season which is huge. So getting that community support is so critical."
The mall is building to it's Black Friday promotion and as well Noyce Photography is booking photo sessions with Santa Claus who arrives at the mall Thursday November 25th.
For November 26th-27th, shoppers can enjoy the Black Friday Bonus by spending $100.00 to receive a $10.00 LloydMall gift card.
Stores already open include Paris Jewellers, Hair Den, Hickory Farms, Richardson's Jewellery, Safeway, Shoppers Drug Mart, Starbucks, Telus, Claire's, Spencer's, Craze Mania, Below the Belt, Sangster's, Wireless Wave, Warehouse One, Bootlegger, Quarks, Ardene, Coles, Calendar Club, Bell, Dollarama, and Ace Liquor.
More information can be found on the mall's social media pages.