"The new facility will allow for increased services and a wide variety of programming for children, youth and adults, in addition to housing archival documents and historical records."
Lloydminster MLA Colleen Young shared greetings on behalf of the Saskatchewan government and the Minister of Parks, Culture and Sport Laura Ross as the new Lloydminster Museum and Archives hosted its ribbon cutting on Thursday.
Residents are being encouraged to book online for the first look and self guided tours Friday and Saturday as the facility is welcomed back in the Midwest.
Construction on the new building located at 4207-44 Street started last Fall and Mayor Gerald Aalbers shared his excitement for the numerous prospects of the facility.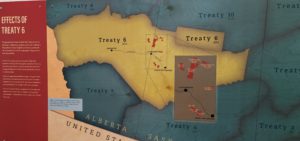 "We have a building with a lease for 10 years. We have a very modern museum that showcases and walks you from the history of the Indigenous people in this area, to the settlers, to business, to agriculture and oil and gas. And then we have the ability now to bring in travelling museum displays, that we couldn't before, because we had not the control of the temperature and humidity."
Manager Natalie Clysdale shared on the first travelling exhibit that begins next week.
"So on December 1st, we have 'Hiding in Plain Sight', which is an exhibit about Métis culture and symbolism found in the Library & Archives Canada. So that's on loan from the Library & Archives Canada. And then we have a full year of exhibits touring through that exhibit in to 2023."
Clysdale says that local artists and community groups are being invited to make submissions to mount exhibits at the new facility.
They are also reaching out to collect donations of artifacts of not just a historical nature, but also of contemporary interest.
Clysdale noted the tourism implications saying that many visitors want an understanding of how Lloydminster became a bi-provincial city. She noted the benefit of the Museum now being home to the Lloydminster Archives as a huge boost to the displays, particularly in the Heritage gallery, with things likes photos and quotations.
Clysdale extended the invitation for residents to book online for the opening first look.
"We have free guided tours and sort of a self exploration open house. Staff will be here on site to answer any questions. We encourage people to ask about our programs, ask about our Pottery room. What does the Archives do? What kind of research services can we provide? What's in our collection? So it's an opportunity for the public to learn more."
Staff are expecting a boost in attendance and are aiming to maintain peak interest going forward with the everchanging travelling displays and revamped local programming.