If you were looking for a Treadmill Team to cheer for in the Lloydminster Region Health Foundation's "Gift to Health Digital Stream"… look no further.
Presenting… TEAM GOAT!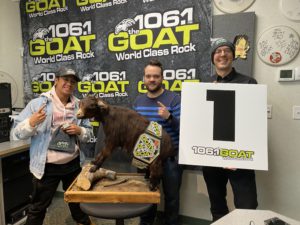 Take a listen to Brad and Warren as they talk about what this event means to them, the impact it has on the community… and the partnership with The Goat:
These two guys will be running 12 hours straight on treadmills along with 24 other community members in attempt to raise half a million dollars for the Lloydminster Hospital's diagnostic imaging upgrades.
Watch all the action go down from 8a – 8p on Tuesday, December 7th here:
https://www.lrhf.ca/gifttohealth
OR
https://www.facebook.com/events/261765195990072