His dancing talent was formed at Fame Dance Studios. His art would take him even further as a career opportunity called from across several oceans.
Earlier this week, MyLloydminsterNow shared on Justin Hauber who for the last five years has worked with Royal Caribbean Cruise Lines as a professional dancer.
The Holy Rosary High School graduate furthered his dance training for about a year in Vancouver, where he was called to audition for the cruise line. He credits his spark to Fame Dance Studios.
"It definitely shaped me as an artist and a performer. What I love about Fame is they are very focussed on performance and they get their students performing as much as they can, which sparked my passion and I'm sure sparked a bunch of others' passions as well. I definitely owe it to them; owe it to Sara [Makins] for a big chunk of that."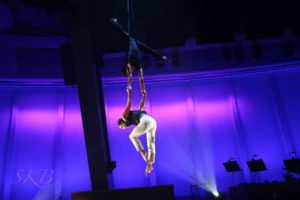 Hauber who is currently based in Hong Kong has visited countries in Asia as well as in the Caribbean. He has also sailed up the east coast of Canada in the Fall, which gave him a taste of home especially with the colours of the autumn leaves.
His dance styles include hip hop, jazz and Broadway styled jazz shows, as well as contemporary dance and aerial acrobatics.
He reflects on the lead up to March 2020 and how travel has changed in a COVID world.
"I was on board a cruise ship in Asia, and I was stuck on the ship for about 100 days at sea and I was unable to return home to Canada. When I finally returned home, there was no real indication of when I was going to be able to go back or when I was going to b performing again."
He says he picked up his life and tried to find what some might call a real life job.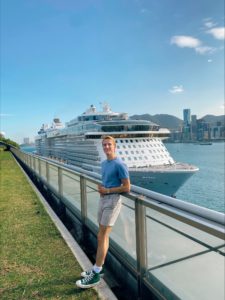 Fast-forward to June of this year and his boss calls to ask if he wants to get his old job back, as they are ready to cruise again.
"And I said yes absolutely. And here we are now."
The cruise industry is presently running below full capacity. Proof of vaccination is required with masking in public spaces, but not at the pool or spa. To go onshore, you must meet the health requirements of the territory where the ship has docked.
Hauber thinks now could be a good time to go on a cruise with smaller lines and more space in the pool. He says people may want to look back on how life used to be and he feels we need greater acceptance to live in the moment.
"I think it is important to focus on what it is presently and thinking of this as the new normal, and not letting us get worked up and stressed about,'Oh it used to be this way, and I miss this, and I miss that.' I think a good mindset and a good perspective is to think,'Well you know what, that was working once, but it's not working anymore. So let's focus on what's working in the present moment and just doing our absolute best.'"
Hauber is presently on board the Spectrum of the Seas, the largest cruise ship in Asian waters.