"This will help us a long way towards helping people in need in our community."
Food collection drives are on as the holidays approach, but local food bank officials are pointing to the ongoing need throughout the year.
Community Ministries Officer, Major Bond Jennings with the Salvation Army in Lloydminster is grateful for the community support at this time.
"I can hardly say enough of the support that we get from this community. We are so grateful because we would not be able to do what we do in the community to help people, if we did not get the support from the community."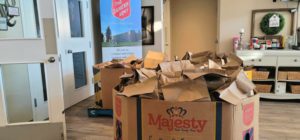 Jennings indicated that cereal, canned food items, pasta and pasta sauces and other non-perishables are always appreciated at the food bank.
He said the three pallets loaded with food hampers, as seen in the picture would last about 3-4 weeks.
"This will go a long way in helping us to re-stock our shelves. Also we are still packing hampers. We are still taking applications, so this will go a long way in helping us to help others in the coming year as well."
He welcomed the generosity at Christmas time, but remained aware of the pandemic as one of the challenges going forward.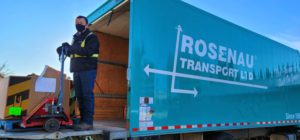 "COVID is still here. And we just want people to be careful. Be conscious of their neighbour and to do all that we can to prevent the spread of COVID."
Jennings commended the businesses, groceries, community groups and everyone who continuously supports their efforts to care for those who are in need and welcomed their ongoing support in the coming year.