"The Color Run that went off for us in early September, that was an absolute breath of fresh air for us and I think a lot of people."
Kim Crockett, Marketing and Business Development officer at Bea Fisher is reflecting on this past year as he looks forward to 2022. He says they were able to pull off their annual Color Run while maintaining all the guidelines. He says they had over 400 people show up at Bud Miller Park and they are grateful they were able to achieve this before the latest round of health restrictions returned.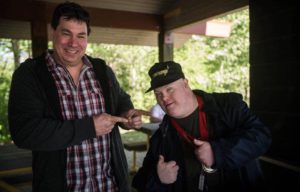 "It was just like a big family getting together that had not seen everybody for many, many months. That was really what the atmosphere was. And then combine that with spectacular weather, warm temperatures and a sunny night. We walked away from that evening, and it was like, did this all just happen. Pinch me. I don't want to wake up from this dream, but it was fantastic."
He is especially thankful to the numerous community partners who made the event a success and mentions Jason Whiting and Videre Images for capturing the memories for them to cherish.
Crockett underscores the importance of social connection in the work Bea Fisher does with their clients.
"I think we are designed to have some type of engagement and interaction with one another. The only question is how much. And when you have been missing it for so long, an evening like the Color Run, it was absolutely spectacular to just get together. So many people. Just such a lighthearted environment like that."
He saluted the Tent Guys for their involvement saying that in the way they do their business, they are a key partner in facilitating those memorable occasions.
Crockett says next year as far as fundraising goes, they would look forward to doing two to three events that generate that community engagement while showing how Bea Fisher can impact the world.
"We want to get involved in the community. The individuals in our care; our biggest desire is to help them live as meaningful and independent self-directed lives as they possibly can. Not collect them all in a room and try to keep them safe and disengaged from the community, but get them out there."
During Disability Awareness Month in October, Crockett says they profiled a few of their clients who are employed with local businesses.
"Without exception, when the employer talked about what a difference it made having a Bea Fisher individual working alongside with them; it might be only for a few hours a week, but they said consistently, it lightened the atmosphere. It was a breath of fresh air. Just love having these guys around; these ladies around. They just pick up the atmosphere inside an organisation. They come in with just a great attitude. They are excited about work. They are excited to rub shoulders with coworkers and it's meaningful to everybody."
Crockett says they would welcome finding more of those engaged employment opportunities in the new year for their clients. Also, they want to do more projects in their care homes to improve the quality of life for their clients; everything from chair lifts to support mobility, to refitting rooms and home spaces. Overall Crockett stresses the importance of their clients living a fully engaged life.
Crockett expressed tremendous gratitude for the overwhelming community support they have received. As well, the Bea Fisher is extending best wishes for the holidays and 2022.
"There's such a wide variety of businesses, individuals and organisations that have intentionally gone out of there way to say, 'Hey Bea Fisher, what's going on in your world? Is there something we can do to help you out? Is there something we can do to help the individuals in your care?' That's who I want to say thank you to. And I have absolute confidence that everybody that I rub shoulders with in the office here, they would all be saying the same thing. 'Thank you for basically looking out for Bea Fisher.'"