In early December last year, Lloydminster teen Levi Kimberly was diagnosed with having a puck sized tumour just above his knee. The 14-year old is facing 26 weeks of chemotherapy in Edmonton.
His father, Brett has taken time away from work to be with his son. Unfortunately the bills including the mortgage continue to occupy the attention of this family along with the travel to Edmonton.
Desiree Wile at Dark Hour Ink on Friday offered to put her talent on the line in a $100 Flash Tattoo fundraiser for the Kimberlys.
"It's a puck sized tumor. A hockey puck-sized tumour. He has to do two days of chemo and then one full day of flushing his system. So he's part of the community, we are part of the community and we just want to really help out."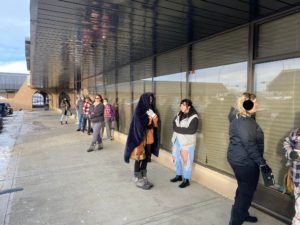 Wile says they designed the tattoos with Levi in mind as he likes snowboarding and scooters. As well, in keeping with the cancer theme, they designed a biomechanical "L". She expressed her gratitude for the community support as there was a line up of customers well before they started at 10 a.m.
"This is wonderful. It's wonderful to see people coming out. To take time in their day to support a child they may or may not know. It's humbling. It's just very, very humbling."
Dark Hour Ink has the fundraiser on until 6 p.m. Friday.