The head of the Lloydminster RCMP, Inspector Lee Brachmann in delivering the 2021 report to Council is revealing some gains and decreases as local law enforcement provide service to the community.
The main graphic shows an eight per cent increase in criminal code offences for 2021 when compared to 2020. Crimes against persons were up 24 per cent and property crime up 15 per cent. Break and Enters were down 10 per cent and motor vehicle thefts were down eight per cent. The graphic shows an 11 per cent rise in thefts under $5000.
Mayor Gerald Aalbers in thanking the RCMP for their service shared his thoughts on the data presented at Monday's GPC.
"We are seeing some decreases and some increases on various fronts. There are less vehicles being stolen, which was a highlight. So I think all in all, it's good to see, I believe crime is down a little bit and hopefully as activity improves in the community, that there are economic opportunities rather than other opportunities to pursue."
Aalbers shared his confidence that the RCMP will continue to do what they do best. He asked for the community to do its part.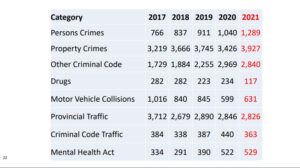 "If you see crime, report it. If you have been a victim of crime, please reach out to the RCMP. They may not be able to recover what's been taken, but it's important to track that. Those statistics come back to city council when they ask for more resources. It is a taxpayer cost, but we can also justify it."
The GPC session also had discussions on drug trafficking, mental health and addictions, speeding and noise related to vehicles.
On the issue of public concern that suspected prolific offenders with matters before the courts are having those cases dismissed without being held accountable by the justice system, Aalbers says they will be raising this with the ministers of justice.
"There are some challenges and I think the justice minister(s) will hear that very clearly in both provinces. It's also a federal matter as some crimes involve the federal judges. I think it is a message we will be carrying to the SUMA convention to the minister of justice. There's a breakdown in the system and it's at the provincial and federal levels. We will look to them for solutions, because that is what we have to do. But we will carry that message to Regina in the first week of April."
Mayor Gerald Aalbers and Lloydminster Council accepted the RCMP report as information.